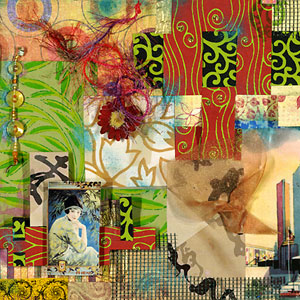 I consider myself an Illustrator/Designer.
I have the visual sensitivity to the absence and placement of objects within a given space. I enjoy directing the eye through a flat surface with the use of textured and colorful imagery.
My graphic design background separates my page layouts from those of many other illustrators. The influence of design has encouraged me to incorporate cut paper, textiles, and found objects into dimensional art with a sort of "flow" – where depth is perceived through shadows. With the combination of items and layers I create "motion" or "movement".
Since we as humans always seem to draw some emotional response from art, I strive for a critique where the desire is to reach in and actually touch the contents.
My portfolio is a compilation of found objects, decorative and embellished papers, mixed media, and occasionally photography. I often scan my work into the computer and utilize Adobe Photoshop. I use the computer primarily for the tweaking of my hand illustrations because I enjoy the process of building my art.